Ilkka Newspaper 18.12.2016: "Finland's largest launching in Hoisko, Alajärvi"
20 joulukuun, 2016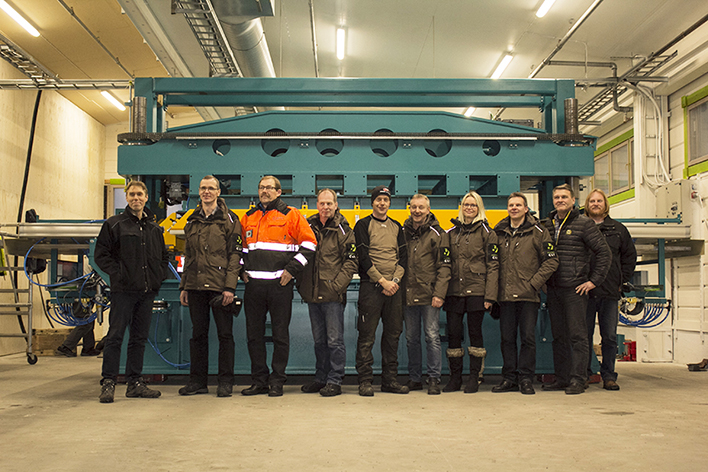 The vision is taking HOISKO to the top"
writes Johanna Heikkilä in last Sunday's Ilkka newspaper. She describes HOISKO value chain as an "ingenious ensemble" of woodworking expertise and a holistic know-how from forests to a complete building. The value chain is open to wood-related actors.
Heikkilä interviews HOISKO members and writes about the great demand in both domestic and international markets. Especially young architects are interested in the possibilities and positive health impacts of CLT. HOISKO products are CLT slabs, large CLT units and CLT modules. The glued edges, which is the unique feature of HOISKO CLT, enable excellent top layer quality. The exporting networks are currently being build. The annual production capacity of the HOISKO factory starts with 40 000 m3 and will reach 70 000 m3 after the planned year 2018 investments. The number of staff will reach 25.
Heikkilä introduces the member companies: the local forest management association, Metsänhoitoyhdistys Suomenselkä ry is a part of HOISKO chain and thus brings the forestry knowledge value into the assembly.
HOISKO CLT large units challenge logistics by their sizes which may reach up to 3,5 meters in width, 12 meters in length and 8000 kg in weight. These features are exclusive in Finland and also internationally rare. Therefore Transport Seppälä adds value as a logistics professional.
Kujakon Oy is a mechanics and automatics professional maintaining and developing the factory machinery. Rakennusliike M. Ranta is a constructor and a link between the building sites, end customers and the HOISKO research and development and marketing departments. Saltex Oy brings know-how in international business and sport center construction for HOISKO value chain.
Individual shareholders and their fields of expertise are Jukka Peltokangas (R&D), Markku Herrala, (administration), Matti Yli-Sissala (planning), Antti Keskitalo (production), Pasi Peltokangas and Juha-Pekka Keisala (large and modular units, plastering).